EMC Private Club Members-Only Over-The-Board Tournament on Saturday, Aug 14 in Oakville
Our first OTB event is on Saturday, August 14, 2021, in Oakville!
We are excited to announce that registration is now open for our FIRST Over-The-Board (OTB) tournament since the pandemic, exclusively for EMC Private Club Members.
This event will take place in Oakville (outdoors and/or indoors) in Oakville and will be limited to only 20 participants. Therefore, registration will close after the first 20 registrants.
This is a FREE event for EMC Private Club Members and this is a CFC-Rated Rapid event (15 mins plus 10-sec increment).
If you're not a member of the EMC Private Members Club, you can join and register to participate in this OTB tournament.
To learn more about our membership and the awesome benefits of membership, see details below:
Note: This event is only for the first 20 registrants so don't delay as spots will fill up FAST!
P.S. After you join, email me immediately so I can send you the link to register for the Aug 14 OTB Tournament. Send your email to: ken@elevatemychess.com
Introducing the…
EMC PRIVATE MEMBERS CLUB
What is EMC Private Members Club?
EMC Private Members Club is the premier membership club by Elevate My Chess specifically designed for members of our chess community who love the game of chess. As some of you have come to know us, Elevate My Chess is a Canadian based company founded by chess lovers who have now created a community for fellow chess lovers and those interested in learning more about the game of chess. Our goal is simple, we are in business to elevate your chess experience! And the EMC Private Members Club is designed to take that awesome experience that EMC provides to the next level!
Why is EMC Private Members Club Special and unique?
Easy…you won't find anything like it anywhere else, and certainly not in Canada. This special club combines the benefits of Elevate My Chess in-person over the board events with our online events and online training programs. It is rare to find any other offer that will match the kind of benefits we're offering with our EMC Private Members Club. Period!
EMC Private Members Club Benefits at a Glance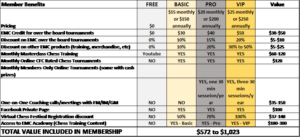 Who is the Private Members Club for?
For every player interested in the game of chess, and particularly those interested in improving their game, regardless of whether you're a professional chess player or a casual chess player like most of us.
Why should you join the EMC Private Members Club?
The answer is simple…
Do you want to improve your chess?
Do you really love this game of chess?
Do you love to get a bargain?
If you answered "yes" to any of these questions, then this membership is for you. We're offering you a membership with an insane value that you won't find anywhere else.
When you join today, you get immediate access to the exclusive members' area with lots of chess training videos. You will also get access to a Private Facebook Group for members where we host our LIVE events for members:
Got questions about our membership offerings? Email: support@elevatemychess.com